Growing in Faith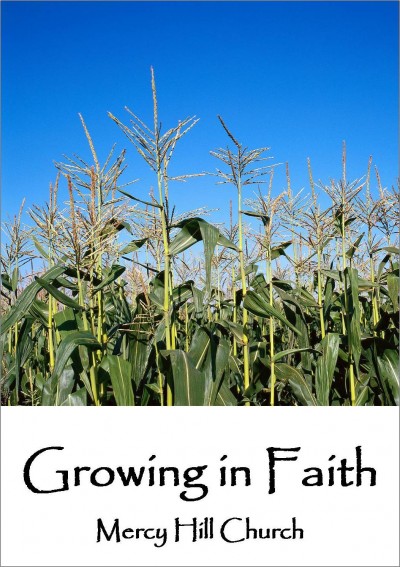 One day in the early years of Mercy Hill Church my wife asked what sorts of things people should be taught to develop a strong relationship with Jesus. Because of that question, and further discussions, we put together an 8-week training course called "Growing in Faith."
There are three aims of this 8-week training:
One -- to strengthen and deepen your heart-trust in Jesus. What I hear from people who have gone through this material more than once is that each time God uses it to strengthen and deepen their trust in Jesus.
Two -- to help you understand and live the foundational passions of Mercy Hill Church. We are passionate about trusting Jesus' promises, experiencing the Holy Spirit, Christ-centered community, and advancing Jesus' mission. We wrote this material so you could be strengthened in each of these areas.
Three -- to give you an experience of Christ-centered fellowship with other brothers or sisters. Genuine, authentic, real Christ-centered fellowship is essential for following Jesus. But it's experienced too rarely. We want to help everyone at Mercy Hill Church grow in this.
This material raises questions such as:
What's a one-sentence summary of the Bible? (see p.1).
How can you tell what you have been trusting in? (see p.2)
Is our problem that we seek joy too much, or that we settle for too little? (p.3)
What can we do to have a heart-experience of God's forgiveness? (see p.9)
What does God's saving power actually do in us? (see p.11)
Why does God show us mercy? (see p.14)
How is the God of the Bible different from Buddha? (see p.20)
If God loves me, why does He allow trials to come to me? (see p.22)
Why does faith always require a promise? (see p.28)
What keeps me from saving faith? (see p.29)
What is the gift of the Spirit, and when do we receive this gift? (see p.39)
What about those who have never experienced the Holy Spirit? (see p.45)
How can I be sure that I have been saved? (see p.46)
What is God's highest passion? (see p.55)
Does God's mercy show His worth or our worth? (see p.57)
Can you be saved without loving and desiring Jesus? (see p.59)
What is the connection between faith and joy? (see p.70)
How does faith produce obedience – in real life? (see p.72)
Which is it – that saved people will persevere – or that they must persevere? (see p.75)
What's the one most important step to strengthen my faith? (see p.86)
What kind of love for others shows that I have been saved? (see p.99)
In what way is eternity at stake in our fellowship? (see p.103)
What keeps us from loving lost people? (see p.110)
Are trials from Satan or God? (see p.121)
How much money does Jesus call us to give (it's not "ten percent") (see p.125)
What question do we ask to decide how much to give to Jesus? (see p.125)
Why is my time so important? (see p.128)
What does God promise to do whenever I face a decision I face? (see p.131)
Interested? Here's how this works:
If you want to go through this material, we will suggest one or maybe two others to do it with you (it works best to have guys with guys, girls with girls). One of them will have already gone through the material, and will be the facilitator.
You will talk together and pick a convenient time and place. You will be given the material, which contains 40 lessons, 5 per week. Each lesson should take at least 45 minutes to complete. You will complete the first lesson on your own, and then talk about it when you meet with the others.
The meeting will involve going through the material, discussing questions that come up, sharing what the Holy Spirit has revealed to you, sharing prayer requests that arise from the material, and praying for each other.
This requires time and commitment. But we believe God can use this material and the time in earnest fellowship to strengthen and deepen your trust in Jesus.
If you would like to pursue this, email us mercy.hill.church AT sbcglobal DOT net.
Pastor Steve